NEW EQUIPMENT

IntelliQuest Bond Testers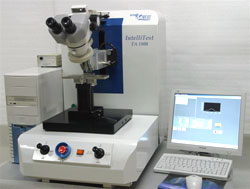 IntelliQuest, together with German technology and co-operating with the University of Dresden (Germany), develops and manufactures Bond Testers under the IntelliTest label, for the semiconductor market worldwide. The goal is to provide users with an affordable Bond Tester without compromising on performance and versatility.

The IntelliTest FA (Failure Analysis) 1800 is the latest member in the established family of mult-tasking tester. Building on the proven quartz crystal sensors, the FA1800 includes new features such as a more user friendly control, pre-positioning check vacuum hold down (vacuum work holder), a simplified modular software based in Windows 2000 OS with security login, Force vs Distance graph and many more. The layout of the Tester ensures comfort and ease of use.

Quartz crystal generates charges that are proportional to the force applied. The quartz sensor exhibits high accuracy, extremely wide measurement range, unlimited working life and high frequency response time. This unique characteristic eliminates the need for test head changeover and calibration. A SINGLE module (test head) for different ranges and types of test like wire pull, ball shear, die shear etc. We are also capable of customising the Bond Tester to handle new test processes such as cold ball pull, bump shear, wet shear, tweezer pull, ball gripper etc. Given this flexibility, we are still able to achieve an accuracy of +/- 0.2% of the full scale.

The FA1800 incorporates advance components in the montion control. A high-resolution encoder ensures accurate closed loop feedback to the motion controller for repeatable back-off height with 0.1um linear encoder feedback. This design also compensates for wear and tear, reducing the frequency of maintenance. Repetitive tasks can be programmed and saved for future use.

In short, we provide a unique, affordable, low maintenance and user-friendly Bond Tester and still achieving it's primary goal - providing accurate and consistent results. The FA1800 comes with an optional SPC software, which covers most of the control requirements for semiconductor manufacturing.
IntelliTest FA1800 Specifications
*********
Back to Top
Wafer Fab | Semiconductor | Test & ATE-Related | Optical & QC | PCB Assembly | New